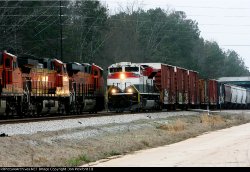 Welcome to the RRPictureArchives.NET contributor site of Don Pickford III.



Most of my Photos have been taken here in Georgia. in Atlanta near the Howell Wye, at King Plow, "Park in the Art center" the Diamond, the Inman Yard, and Tilford Yard, or the slide all Located in Fulton County, a must see, some have been taken in Manchester Ga as well during the CSX railroad days, another great place, other photos were taken throughout the USA during traveling.

I have listed an album of a CSX derailment in the county I work as a firefighter of which seems to be getting alot of viewing. No one was injured or killed in this derailment , just some hurt feelings, and a few changes of underwear were needed. This was due to a Tractor Trailer just loaded with sheetrock which became disabled on the track awaiting to make a turn onto the nearby Highway. The Truck driver was on the phone with CSX "using the number listed at the crossing" trying to get rail traffic stopped upon impact.... 4 loco's and several stackcars with loaded containers came off the track, most the cars went into a nearby lumberyard of which the tractor trailer was from and had just loaded prior to this occuring. Temporary track was being placed just a couple hours into the clean up, Rail traffic was reopened the next morning for slow moving trains to proceed, several weeks later new mainline was layed and completely opened back up. This line is one of CSX'S mainlines running north & south coming out of Atlanta, as for the lumber yard / trucking company they are no longer in business..........................

Most Photos were taken with a Canon Digital Rebel XTi EOS 35mm an Alwsome Camera........

If you have any questions please Email me at CcEng12Fd@aol.com with them.

Any comments are welcome....

I hope you enjoy looking at my photos as much as I enjoyed taking them..........

Don Pickford III



You may browse my collection of pictures via the menu located on the left hand side of the page. I hope you enjoy the collection and thanks for stopping by!